Kokoro Palette is a song featured in episode 11 of Kono Bijutsubu ni wa Mondai ga Aru! - Unity! Empty Cans! Cultural Festival!, performed by Ozawa.
Kokoro Palette
Edit
ai ga kiete yuku mae ni watashi no kokoro wo juu-ni shoku no kanjou de kimi ni tsutaetai akai iro wa junjou aoi iro wa yuutsu ironna watashi ga atte ki iro ga shiawase nara midori iro wa nonbiri jibun rashisa ni naru yo iro toridori no kanjou wo paretto no ue de maze sugite makkuro de kowaresou na watashi ga koko ni iru kedo ai ga kiete yuku mae ni anata no kokoro wo monokuro no kanjou de watashi ni oshiete yo ima sugu ni ai ga kiete yuku mae ni watashi no kokoro wo kakusazu ni massugu ni kimi ni tsutaetai chotto etakuso na koi de bukiyou na ai mo warawazu ni uketotte mashhiro no kyanbasu wo kokoro no paretto wa kimi wo sukitteiu sono iro dake dakara
Before the love fades away I want to express my heart to you in twelve colors Red is for passion Blue is for melancholy There are many sides to me If yellow is happiness Then green is relaxation I'll be myself With feelings of so many colors Mixed on top of my palette Here I am, all black and ready to break Before the love fades away Tell me what's in your heart With monochrome feelings Right now Before the love fades away I want express my heart to you, honestly, without hiding anything I'm not too good at love I'm pretty clumsy But I hope you'll embrace my blank canvas without laughing My heart's palette says "I love you" That's the only color I have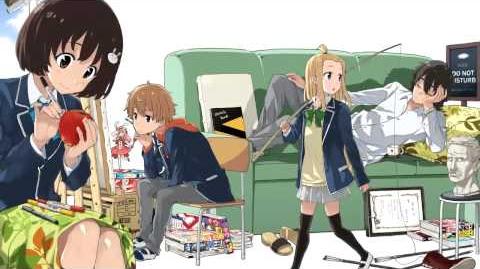 Ad blocker interference detected!
Wikia is a free-to-use site that makes money from advertising. We have a modified experience for viewers using ad blockers

Wikia is not accessible if you've made further modifications. Remove the custom ad blocker rule(s) and the page will load as expected.